If you have been wearing contacts and/or eyeglasses for a while, there's a good chance you have thought about the possibility that surgery might be able to correct your vision or at least make you see better. While LASIK is widely popular, and likely the first type of eye surgery that you think of, there are other types of eye surgery that may be useful depending on your situation. Regardless of which type of eye surgery you may want to consider, the process all starts with a trip to see your Reading optometrist.
The Role of Your Optometrist in Your Eye Surgery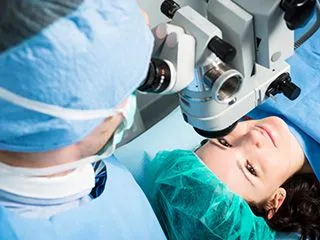 If you are ultimately a candidate for eye surgery, will be performed by an ophthalmologist, however, that eye doctor will likely want to stay in close communication with your optometrist to make sure that you are getting the eye care you need before and after any procedure that you go through. If you are considering eye surgery, your first step should be an exam with your regular eye doctor who has been overseeing your eye care all along.
Dr. Lisa McDevitt takes the process of preparing you for eye surgery very seriously, regardless of what type of surgery you are considering. With a thorough exam and reviewal of your eye care history, she will determine if you are a good candidate for that surgery, and can work closely with the surgeon who will actually perform the procedure. She sees to it that you are properly prepared beforehand, and that your follow-up care after the procedure is topnotch and that you have the results you are looking for afterward.
Types of Eye Surgery
LASIK or PRK
If correcting refractive errors is the goal of surgery, you will likely be considered for LASIK or PRK surgery. LASIK (laser-assisted in situ keratomileusis) corrects how eyes focus by removing tissue under the cornea. PRK (photorefractive keratectomy) uses a laser to remove cells from the surface of the cornea to achieve vision correction. Both surgeries are relatively fast, but recovery may take some time and needs to be overseen by your eye doctor who can also verify that you have achieved your optimal vision.
Cataract Surgery
Cataracts can threaten your eyesight if they are not taken care of. Cataracts are commonly diagnosed during an eye exam, but surgery may be needed to prevent blindness. The only cure for cataracts is the surgical removal of the clouded lenses.
Other Surgeries
Glaucoma, diabetic retinopathy, and macular degeneration are also commonly diagnosed during an eye exam, and need ongoing care, whether surgery is in the treatment plan or not. Dr. McDevitt can help you manage any of these conditions to save as much eyesight as possible. To learn more about how our optometrist helps eye surgery co-management, contact us at Lisa M. McDevitt. O.D. in Reading, PA at (610) 796-1300.